Victory Toyota Rental Cars in Seaside and Monterey
SUPER LOW RATES…SUPER  CONVENIENT PROCESS
Victory Toyota TRAC Rental Rates
We make it so simple!
Just choose the vehicle you want
Click on the Request a Rental Reservation Button or call us at 877-960-2162
And submit a Rental Reservation Form.
Victory Toyota Trac Rentals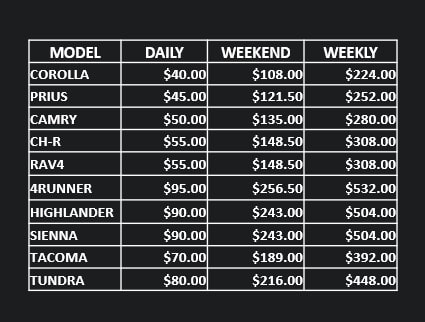 Please note: We cannot guarantee an online Rental Reservations Request until we contact you by phone or in person. If you require faster service, please call us directly.
NOTE: All prices shown do not include tax
---
VICTORY TOYOTA TRAC RENTAL CAR GUIDELINES
RENTAL PERIOD:
Daily Rentals:  Our daily rental period covers up to a maximum of 24 hour from signing.
Weekend rentals: Our weekend rentals cover a 3 day period, with check-out on a Friday, and return on the Monday immediately following, up to a maximum 72 hours after rental agreement signing.
Weekly rentals: Our weekly rental covers any 7 contiguous days.
Victory Toyota official TRAC rental department hours are : M-F 8:30 to 5:30 PST.
Customers having their current vehicles serviced at the Victory Toyota service department are eligible for a special $40/day ratee for any model in our rental fleet. This special rate applies only while the customer's vehicle is being serviced
Once services are complete, they will be charged the regular retail rate for the model that they are currently renting 

 if the customer chooses to keep the vehicle any additional days.
All driver must phyiscally present a valid driver's license and insurance at rental agreement signing. Drivers must be 21 years of age or older in order to rent or operate any of our rental vehicles.
There are no mileage restrictions on our rental vehicles but there is a mileage maximum of 225 miles included in the normal per day rate. Additional miles will be charged at $0.15 per mile thereafter.  Under no circumstance can our rental vehicles be taken out of state without prior written consent from Victory Toyota. 
All rental charges to be paid 100% in full, upfront, at the time of rental checkout.
We cannot accept any debit cards or prepaid debit/charge cards for payment of rental charges.
All rental vehicles must be returned to Victory Toyota  by 4 pm, on their due date, or an additional day/charge will be incurred.
Vehicles must be returned with the same amount of gas they were delivered with. A $4.00 per gallon fee will be charged for each gallon needed to re-fill the gas tank.
All rental vehicles must be returned to Victory Toyota, and the contract re-signed after any 30 contiguous days of rent, even if a customer plans on keeping  the vehicle for more than 30 days.
Vehicles and prices are subject to availability and are subject to change without notice.
We reserve the right to refuse service to anyone.
The following instances will result in an additional $50.00 surcharge to your rental:
–  Smoking within the vehicle
–  Transporting pets or other animals
–  Removal of rental stickers
–  Excessive soiling of vehicles
Please refer to the actual rental contract carefully for complete rules and conditions.  Prices shown are available only at to Victory Toyota TRAC Rental Cars only and all transactions and rental returns must occur at our dealership during regular TRAC Rental Department hours unless authorized by the Rental Car Department Manager.  All rentals must be returned to the TRAC rental agent only and not to anyone else at the dealership.  Should the vehicle be returned without inspection and or after rental hours, the vehicle will not be considered returned and you will be subject to any damages that may occur until that vehicle is signed off by our TRAC associate.